WSAL Open
Directors
| Name | Position | Contact |
| --- | --- | --- |
| Laura Middleton | President | |

Welcome to the Women's Soccer Association of Lethbridge!
Our Leagues are always looking for new players to get involved in our outdoor and indoor soccer leagues. We have a OPEN league for Women over 18, and a VINTAGE league for Women over 35. Meet our current Board of Directors below and learn more about our current leagues to play in. Contact us below to learn how to join a team or submit one to our leagues.
---
REGISTRATION IS OPEN STARTING MAY 15th.
Please click below to register for the 2023 Outdoor Season if you are already on a team. Every player must register individually.
---
MEET YOUR 2022/2023 BOARD OF DIRECTORS:
PRESIDENT: Laura Middleton
VICE PRESIDENT: Jayna Burleigh
SECRETARY: Kim Djordjevic
TREASURER: Lorena Masnyk
DIRECTORS AT LARGE:
Cathy Metzler
Meighan Moffitt
Robin McCulloch
Shannon Moors
Bronwyn Collins
Jocelyn Roberts
OPEN LEAGUE REP:
Jocelyn Roberts
OVER 35 LEAGUE REP:
Shannon Moors
---
OUR SUMMER LEAGUE IS ABOUT TO BEGIN!
The Open Tier Women's Soccer League Season begins on May 24th! Registration will be available starting May 15. Please note that each player must register individually. Starting May 15th, you can register by clicking here.
Please View our Game Schedule Below: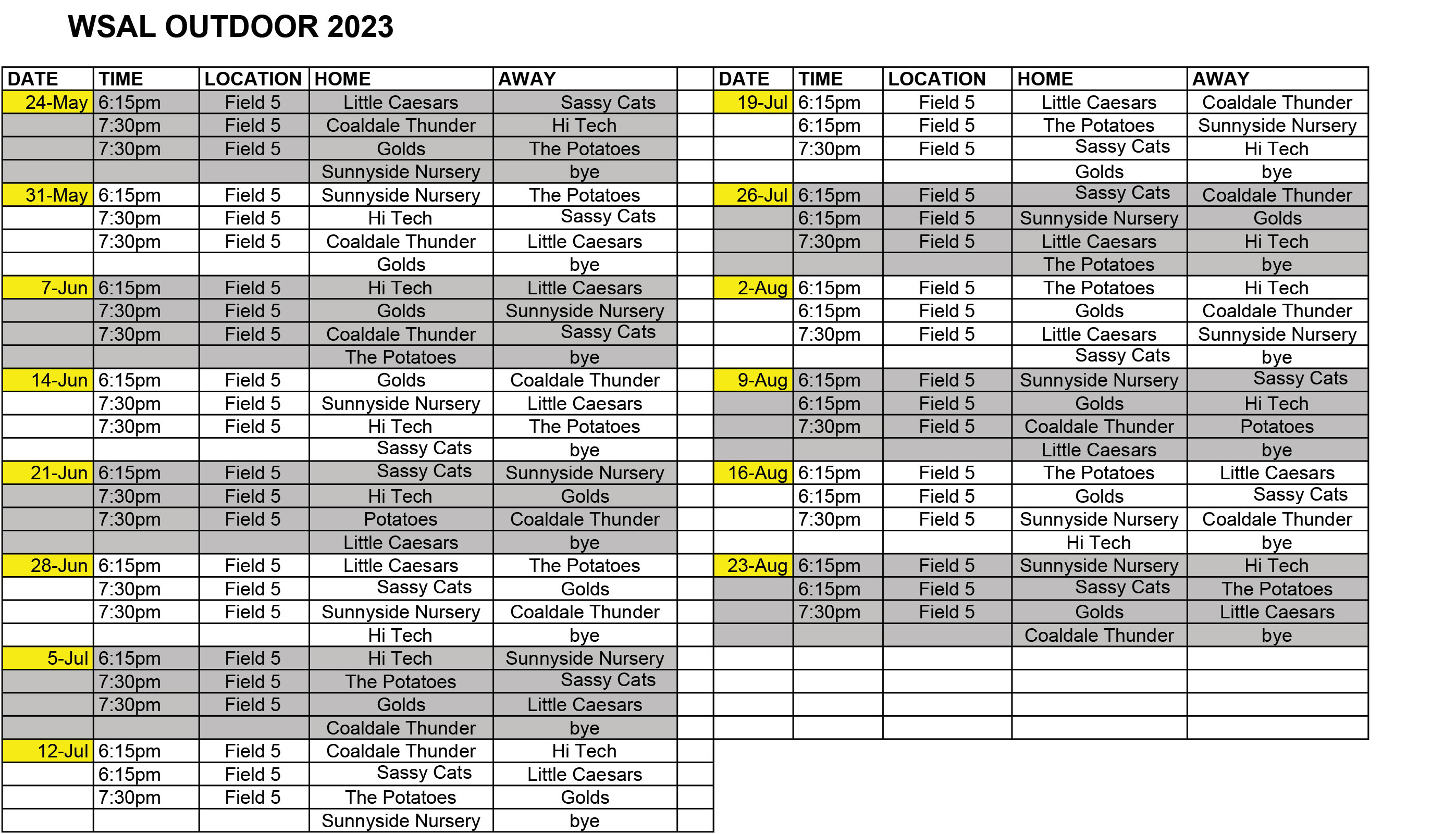 ---
QUESTIONS OR CONCERNS?
Email us at: wsalsoccer@gmail.com